TABC: Mobile is a smartphone application which places TABC information and access at your fingertips. It is the preferred way of securely filing complaints and officially filing breach-of-peace reports quickly and easily. Filing with TABC: Mobile takes just minutes and provides verification of receipt by TABC.
Be the eyes and ears of the Texas Alcoholic Beverage Commission. Report and view violations of Texas liquor laws. Search for Texas businesses that sell, serve, or distribute beer, wine or liquor.

TABC Certification - 10% OFF SALE
Employees who obtain TABC Certification - Texas alcohol seller-server training - are able to prevent sales to minors, recognize signs of intoxication, and effectively intervene to prevent problem situations.
Texas TABC Approved Provider #454-508
100% online - No Classroom Attendance
Enter Promo "train10off" at Checkout
App Store Links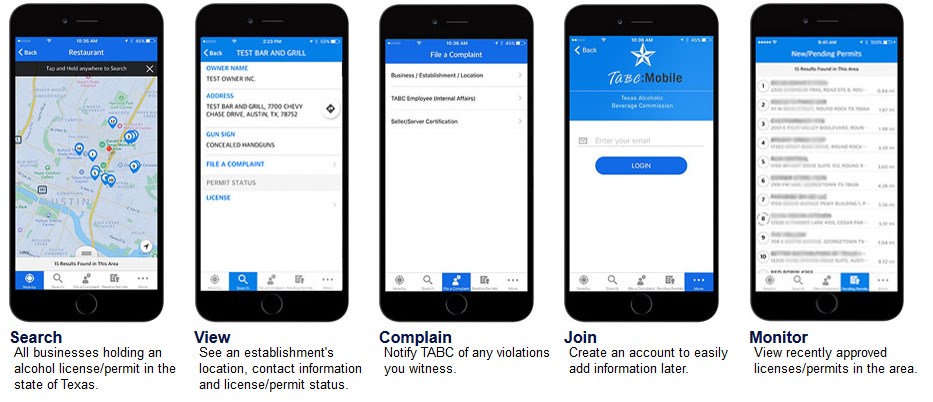 Search & View
Search all businesses holding an alcohol license/permit in the state of Texas.
See establishment locations on a map and get directions.
View business addresses and owner names.
Every type of alcohol related business in Texas can be searched: local businesses, bars, restaurants, liquor stores, breweries, distilleries, wineries, convenience stores, grocery stores and sports venues.
Notify
Notify TABC if you know of any violations or a business breaking the law.
Enables citizens to work with the Texas Alcoholic Beverage Commission by reporting incidents they see, like fights, gambling, prostitution, human trafficking or illicit drug use.
Notify TABC when minors are being served alcohol or employees over serving patrons drinks. Users can also report violations of alcohol anonymously.
Report a Breach of Peace
The TABC App will also make it easier for retailers to report violations of peace at their establishment.
Texas License/Permit holders and/or authorized employees may register and submit breach of peace reports.
Receive email confirmation after submitting breach of peace, which qualifies as an authorized report of incident pursuant to the Texas Alcoholic Beverage Commission administrative rules.